Why Shop with Us?
over 500,000
happy customers
support non-profit
organizations worldwide
Customer Reviews
Write a Review
Ask a Question
04/26/2021
Angie

United States
Thankful
Bought this bracelet for my 5year old . He liked the fact of all the different colors. After explaining him the meaning of the bracelet how God created the heavens and the earth. He couldn't wait to wear it teaching the new growth about how wonderful God is means so much love . Thank you guys im so thankful this bracelet fit my little one just perfect . Even bought myself a distance bracelet. We love you guys much blessings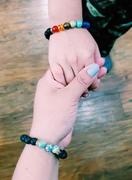 03/26/2021
Gabriel R.

Costa Rica
EXCELLENT QUALITY!!!
I love everything the apparel, it is just so amazing! I admire all the phrases and the Bible encouragement they offer. God bless you so much <3
03/17/2021
Leona S.

United States
Super cute
I got this as a giveaway for a 30 day challenge and my girls are excited to win it. I love how it's referred to as the 7 days of creation that correlate with the stones.
02/08/2021
Calista J.

United States
Favorite bracelet
Great quality bracelet and beautiful colors. I ordered white and black and I love them both!
01/22/2021
Branson R.

Canada