Why Shop with Us?
over 500,000
happy customers
support non-profit
organizations worldwide
Customer Reviews
Write a Review
Ask a Question
06/19/2021
Alexis M.

United States
i'm obsessed.
this ring is the perfect mix of contemporary fashion and an element of the gospel. you can't go wrong with this one!
05/24/2021
Adriana V.

United States
Exactly what I wanted!
The ring is so beautiful, sweet and delicate. I wear it as a reminder of God's love for me and I smile every time I look at it.
05/17/2021
esa s.

United States
i'm so happy!
this ring is amazing! shipping was fast and the jewelry is great quality. i've been wearing it for a while now and had no problems. i love this ring so much and get lots of compliments on it. i love the wildflowers theyre so dainty and detailed. a sweet reminder to keep the Lords love in my heart growing, wild, and uncontained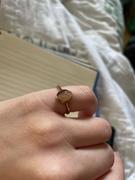 05/09/2021
dani t.

United States
Beautiful
This ring is so beautiful and so cute, I am obsessed with it! I wear it every day and it is the perfect size. Definitely recommend getting it for yourself :)
04/19/2021
Ruthie M.

United States
So Great That I Bought Two!!
I absolutely love my Wildflower Ring! The design is beautiful, and I love the color! Also, because of the affordable price, I was worried about the quality but there was no need to-- it's fantastic and durable. I liked mine so much I bought a second on to give as a gift. Highly recommend!