Why Shop with Us?
over 400,000
happy customers
support non-profit
organizations worldwide
Customer Reviews
Write a Review
Ask a Question
07/22/2020
Elsi R.

United States
I recommend this product
Leather nail bracelet
Beautiful product
07/12/2020
Beth G.

United States
I recommend this product
Bracelet
Perfect I love it
06/13/2020
Sabreena C.

United States
I recommend this product
Wow!
Absolutely love this bracelet! The quality is amazing, and as someone with a very small wrist I was skeptical of the size being small enough to where it wouldn't fall down my arm, but it is PERFECT! The only small thing is that the bracelet is really really hard to take off and somewhat hard to put back on. As it's real leather I don't shower with it, so I struggle a little everyday. However there's is no way I'd take away a star because that makes it so much more secure when it is on. Thanks for the lovely product!
06/08/2020
Symone B.

United States
Beautiful and Meaningful // Conversation Starter
Not only does this bracelet look pretty (or handsome) on the wrist, it also has a very beautiful meaning. My friend, who believes in God but I'm not sure if she's saved?, asked me about this bracelet and it made me so happy that she initiated that conversation. Although she is my friend, I have been praying for the boldness and confidence to speak more openly about Jesus, because I never knew how she would perceive it. So when she asked me about it one day, I said "oh yes, I like it too. It's a nail that is symbolic of how Jesus died on the cross for us." And although the conversation ended right there, the fact that she heard what I said (as well as 2 other friends that were in listening range) made me feel as if I had been obedient in that moment in planting a seed for the Holy Spirit to water.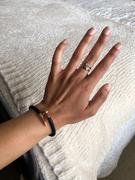 04/29/2020
Randi A.

Canada
Love it
It is lovely and I've gotten many compliments