WHY SHOP WITH US?
Customer Reviews
Write a Review
Ask a Question
04/30/2020
Emma S.
United States
Cute!!
These stickers are so cute!
04/19/2020
Allison S.
United States
Sticker review
I love the stickers! They are super cute and the stay on very well and don't peel!
03/31/2020
Samantha C.
United States
Love!
I just love everything from this company. The products are amazing quality and I will be purchasing more in the future ☺️✝️
03/28/2020
Katie S.
United States
Excellent
Very good! The service is very professional!
03/24/2020
Eden J.
United States
Lovely
Lovely reminder to put on my water bottle of how much power faith can have.
03/15/2020
Crystal M.
United States
Excellent purchase! Definitely recommend EF stickers
The stickers are so clear and vibrant and the wording turned out great! Stuck onto my laptop pretty well. (Even when I had to adjust and straighten things out at first). Not sure how long it will last but it's been a month since my purchase but after taking my laptop in and out of its case, the stickers still look good as new!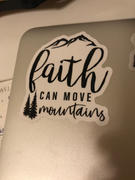 03/04/2020
Priscilla C.
United States
Awesome
I absolutely love everything I purchased! No disappointments at all!! ❤️
03/04/2020
Michelle J.
United States
Faith Can Move Mountains Sticker
Received my order fast and was satisfied
02/17/2020
Shamber C.
United States
Love this sticker, have it
Love this sticker, have it on a water bottle as a daily reminder!
02/16/2020
Alexia C.
United States
Will Purchase More ><>
While I was reading a devotional in my bible app, the verse Matthew 17:20 stood out to me and spoke to my heart so I immediately thought of the phrase "faith can move mountains" and proceeded to search for a sticker with this phrase. Because of this, I stumbled upon Elevated Faith. I ordered 3 stickers, including this one, and am super impressed with how beautiful they are as well as the quality. I am definitely purchasing more as soon as possible!!