Why Shop with Us?
over 500,000
happy customers
support non-profit
organizations worldwide
Customer Reviews
Write a Review
Ask a Question
06/14/2021
Ronald B.

United States
Tiger Eye Cross bracelet
This was a beautiful bracelet and a perfect gift for a graduate
05/11/2021
Daniel C.

United States
Bracelet is beautiful!!!!
This bracelet is so breath taking, as soon as I got it in the mail I was impressed with its beauty. When you are in the sun it shines so bright and looks so illuminating. The cross is also beautiful on it, it reminds me that I am a child of God. I where it everyday. Definitely recommend.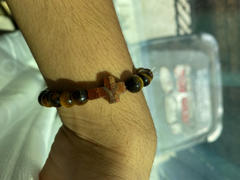 03/12/2021
Marion J.

United States
Great Bracelet
Love this bracelet. Can't wait to wear it!
03/03/2021
Holly B.

United States
Tiger eye bracelet
I love the way it fit because I have a really small wrist. I love the colors and how shiny the beads are!!!! The cross is also really pretty! LOVE IT and would recommend!!
02/16/2021
Gabby

United States
So cool
I love the detail on the bracelet!